All Courses
Certificate in dialectical behaviour therapy (DBT) for eating disorders: Level 1, 2 and 3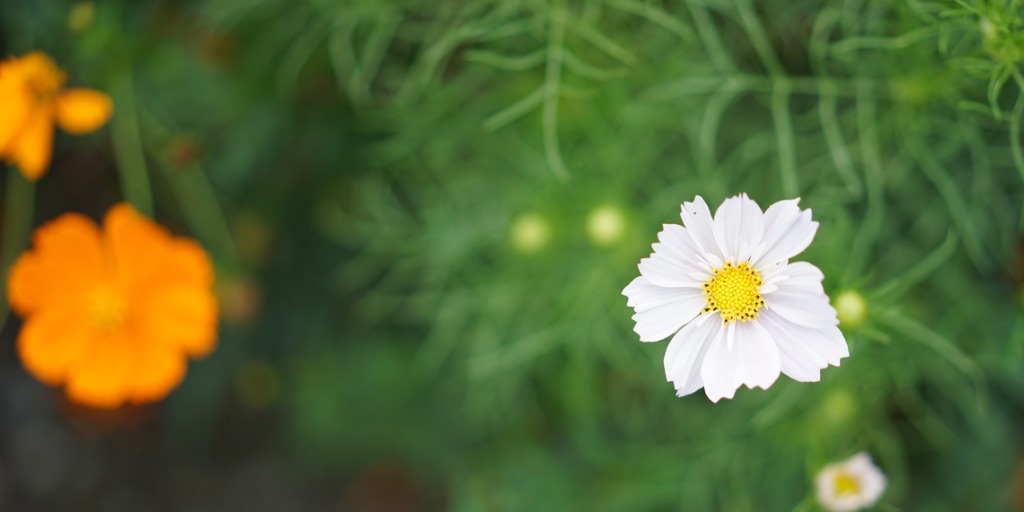 This certificate program is a 3-part series. To receive the joint Certificate in DBT-ED from SickKids CCMH Learning Institute and The Centre for Psychology and Emotion Regulation, you must complete the full program of Certificate in dialectical behaviour therapy (DBT) for eating disorders: Level 1, Level 2 (Adults OR Adolescents) and Level 3. Otherwise, participants may take Level 1, Level 2 – Adults, or Level 2 – Adolescents on their own as a stand-alone training and will receive a Certificate of Participation from SickKids CCMH Learning Institute.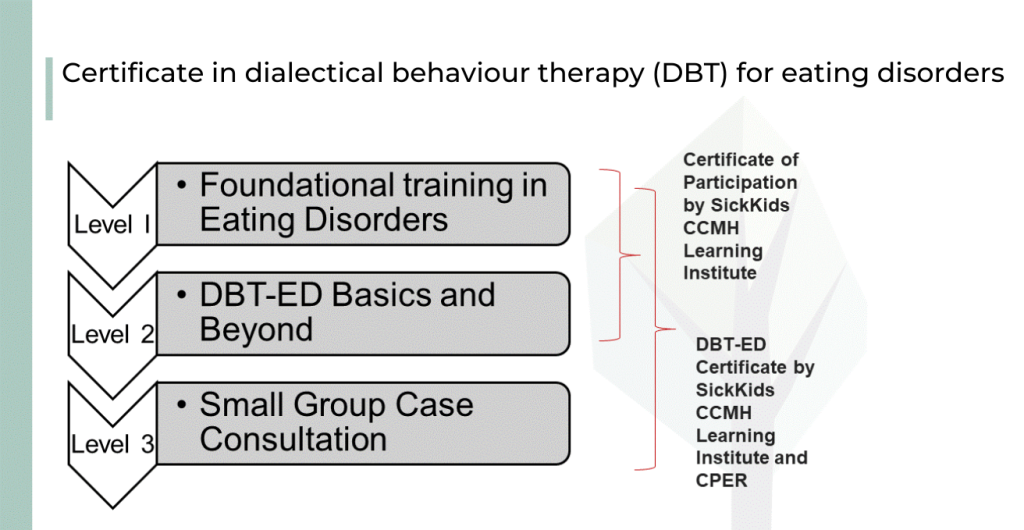 Overview
The demand for eating disorder (ED) treatment has never been greater. Over the course of the pandemic, the number of people suffering from an ED and seeking professional help has increased substantially. Waiting lists for hospital programming and for private eating disorder centres are exceptionally long. As EDs are chronic in nature, highly debilitating, and associated with extremely high mortality rates, those affected by them can't afford to wait.
A recent statistic from the Academy for Eating Disorders reported that someone dies as a direct result of their ED every 52 minutes. Given the severity and the sheer demand for services, it is reasonable to expect that most health-care practitioners will have a number of patients with EDs on their caseloads. Stigma, misconceptions, and a lack of clinical resources continue to impede early detection, proper assessment, and necessary treatment. Signs and symptoms are often missed. Thus, it is imperative that all clinicians have foundational knowledge to aid in prevention, early detection, and foundational treatment interventions.
---
Certificate in DBT for eating disorders: Level 1 – Foundations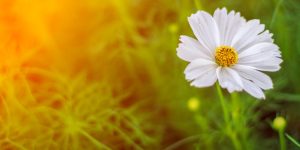 Dates: Jan. 31, Feb. 7, 14, and 21, 2023
Time: 1:30 to 4:30 p.m. ET
Prerequisite: Foundational DBT knowledge
Learning objectives:
Describe biological and social factors that cause and maintain eating disorders
Identify when the eating disorder becomes life-threatening
Explain set point theory
Administer three ED-specific assessment measures
Identify ways to create weight-neutral and body inclusive spaces
---
Certificate in DBT for eating disorders: Level 2 – Adults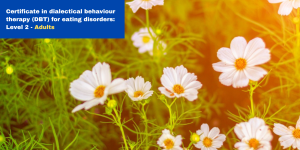 Dates: Feb. 28, March 7, 21, and 28, 2023
Time: 1:30 to 4:30 p.m. ET
Prerequisite: Certificate in dialectical behaviour therapy (DBT) for eating disorders: Level 1 OR clinical experience treating eating disorders and foundational DBT knowledge/experience
Learning objectives:
Describe the adapted biosocial theory to clients
Identify where eating disorder symptoms go on the DBT target hierarchy
Demonstrate how to use dialectical strategies when talking to clients about food and body weight
Use the DBT-ED diary card to structure sessions
Describe ways to adapt DBT skills for individuals with eating disorders
---
Certificate in DBT for eating disorders: Level 2 – Adolescents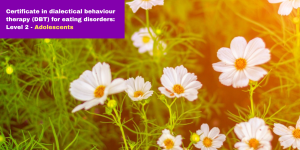 Dates: April 4, 11, 18, and 25, 2023
Time: 1:30 to 4:30 p.m. ET
Prerequisite: Certificate in dialectical behaviour therapy (DBT) for eating disorders: Level 1 OR clinical experience treating eating disorders and foundational DBT knowledge/experience
Learning objectives:
Determine who needs DBT-FBT vs. standard FBT treatment
Teach the adapted biosocial theory and the two-step framework to youth and caregivers
Orient families to the rationale and use of the target hierarchy
Identify how to use dialectical communication strategies to get "unstuck"
Describe how multifamily skills groups operate in DBT-FBT
---
Certificate in DBT for eating disorders: Level 3 – Group Consultation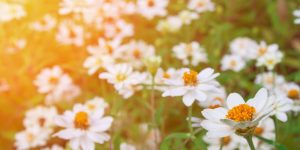 Dates: To be announced
Times: To be announced
Prerequisite: Certificate in dialectical behaviour therapy (DBT) for eating disorders: Level 2 – Adults or Adolescents
Structure:
Group size: 10 clinicians for Adults; 10 clinicians for Adolescents (first come first served basis)
Session length: 60 minutes per session
Number of sessions offered: 20
Attendance policy: To complete the Certificate in DBT-ED, clinicians must attend a minimum of 15 sessions
Fee: $1,200 per clinician