By Jane Kitchen, Senior Communications Advisor
Originally published on Connections, the SickKids CCMH staff news site
Oct. 2, 2020
Samantha Wright and Stephen Malcolm are Youth Outreach Workers (YOWs), working with youth in the Flemingdon Park area. They are part of a province-wide youth outreach initiative which includes over 35 YOWs servicing Toronto's 31 Neighbourhood Improvement Areas (NIAs) across the city (funded by Ontario's Ministry of Children and Youth Services). Their job is to be available for marginalized and at-risk youth in the area high schools as well as community and health centres.
Wright and Malcolm link youth to services, engage them in community activities and offer support on concerns such as mental health treatment, housing, employment, healthy relationships and sexual health.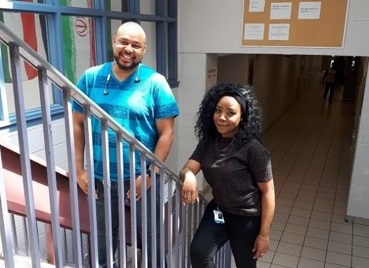 Before the pandemic, they were both in area schools. They would field walk-ins from youth, as well as referrals from principals, guidance, social work, and teachers. As the only Black workers in the school, this connected Black students with Black support.

Wright also spent time at a community health centre and at the library for a girls' youth group, while Malcolm would go to local recreation centres and the library. After three years in this role, they are recognized in the community by word of mouth and approximately half of their referrals come from youth they are helping.
This spring, when COVID-19 restrictions meant they could no longer visit with youth in person in the schools or the community sites, they shifted service to text, email and phone. The team is also piloting program-focused Instagram accounts, where clients can follow them for news and resource-sharing, and send private messages to the team as well.
Where the YOWs would previously keep a schedule in line with school hours, their days suddenly became more fluid, with them receiving random calls, messages and emails any time of day. Something that could have been resolved with a quick lean-on-the-doorframe moment would now potentially take hours over screens.
The team also had to shift quickly to reading situations without the benefit of non-verbal communication.
"We are used to being face-to-face with these youth, and being able to read body language," says Malcolm. "This changed to trying to decipher everything through words on a screen and reading between the lines if a youth was in crisis."
Throughout the spring and summer, while they couldn't connect in person, the team knew how crucial it was for youth to still be able to reach them, to provide stability in a world that had suddenly been turned upside down.
"Schools and rec centres are safe spaces for these kids," says Wright. "If the rec centre and library are closed, where can they go to get away from home? Where can they play video games, go play music, play basketball?"
The pandemic highlighted socio-economic disparities, says the team.
"COVID-19 has shown that there is a technology gap in terms of what our clients have," says Malcolm. "If they have a phone, do they have Wi-Fi? A data plan? Are they comfortable showing off their home on a video call? Are siblings all trying to work at home using one computer in a two-bedroom apartment?"
Sometimes, an inequitable lack of access occurs because a parent is going through a client's phone or emails, furthering their alienation.
"We don't know what is going on in their homes," says Wright. "They can't always let us know safely."
To alleviate this concern, the team made sure to communicate their availability through their various platform and continue their offering of a safe virtual space.
In mid-September, Wright and Malcolm returned to community work, giving youth another option; they can now meet them in public places such as malls, fast-food places and parks, while physically distancing.
The team is not yet back in schools; however, staff refer students to them so that they can connect through email, phone or text onsite at the school or offsite. One school is planning on setting up a laptop so that students can videoconference with them as well.
"This pandemic has affected everyone we work with," says Malcolm. "We remain committed to being available every way we can until we are fully physically present back in the community."