We are pleased to present below a clear set of definitions for our six strategic values: compassion, integrity, collaboration, inclusion, innovation and excellence. Our Strategic Plan 2025 makes sense of our directions as an organization. Our values describe the qualities we aspire to in pursuing those directions. If strategy is where we are going, values are what we bring.   
The definitions reflect an important conversation across the organization that took place over the past several weeks involving staff, leaders and clients. These values describe what our staff aspire to in their work, but, importantly, they also reflect what staff bring to their work every day. 
Neill Carson, Executive Director
April 25, 2023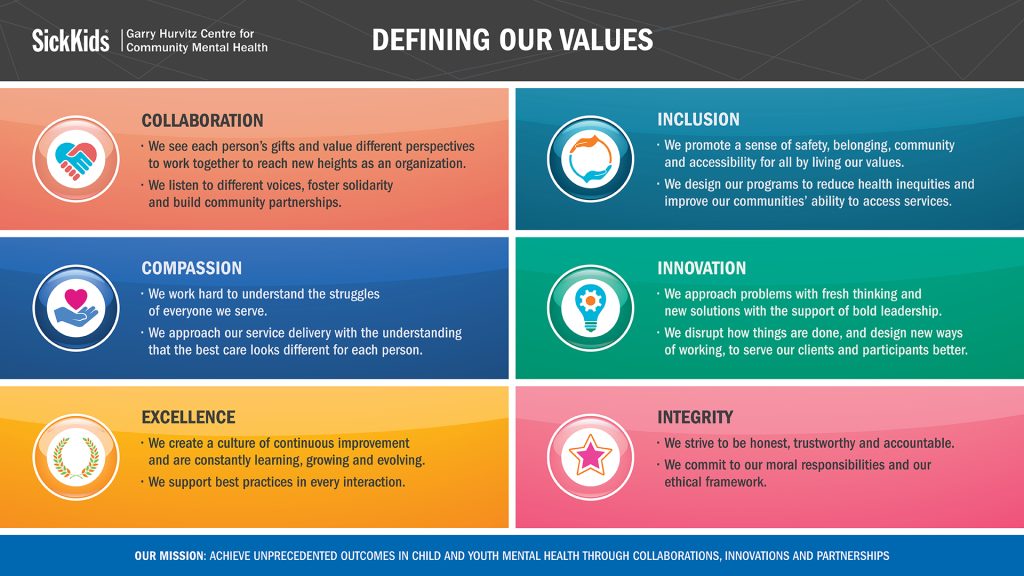 What do you think of the definitions of our values?
---
Nos valeurs
Nous avons le plaisir de présenter ci-dessous un ensemble de définitions claires de nos six valeurs stratégiques : la compassion, l'intégrité, la collaboration, l'inclusion, l'innovation et l'excellence.
Notre plan stratégique 2025 donne un sens à nos orientations en tant qu'organisation. Nos valeurs décrivent les qualités auxquelles nous aspirons dans la poursuite de ces orientations. Si la stratégie est la direction que nous prenons, les valeurs sont ce que nous apportons.   
Ces définitions sont le reflet d'une importante conversation qui s'est déroulée au cours des dernières semaines au sein de l'organisation et à laquelle des membres du personnel, des dirigeants et des clients ont participé. Ces valeurs décrivent ce à quoi notre personnel aspire dans son travail, mais, surtout, elles reflètent aussi ce que le personnel apporte à son travail chaque jour. 
Neill Carson, directeur exécutif
25 avril 2023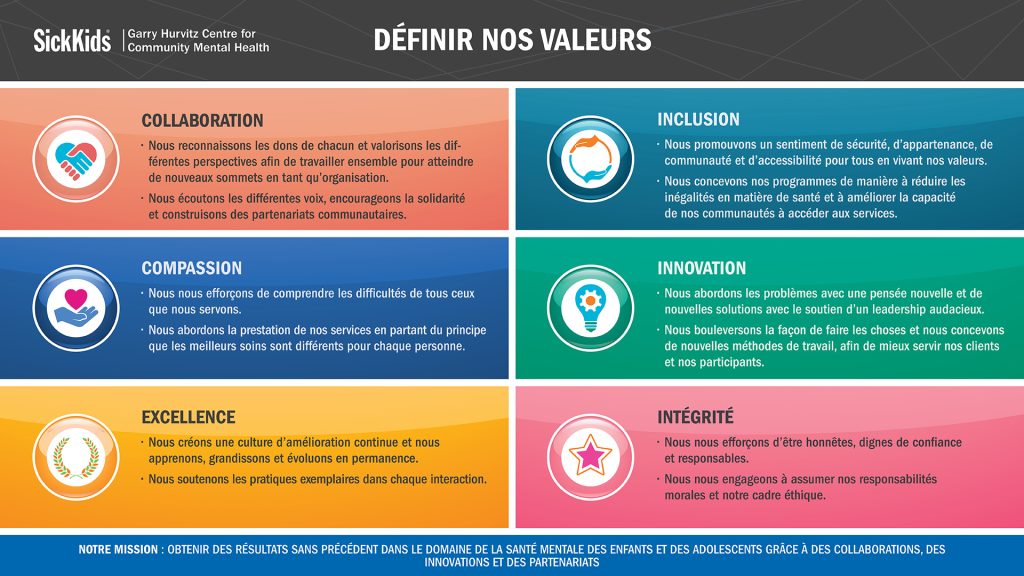 Consultez nos valeurs en format PDF.
Que pensez-vous des définitions de nos valeurs?