Vision: Enriching Health through Mental Health
We are pleased to launch our new Strategic Plan 2025: Enriching Health through Mental Health. This plan is comprised of six directions that will ensure we deliver on our mission to achieve transformative outcomes in child and youth mental health through collaborations, innovations, and partnerships. This work is now emboldened by the transformational gift from Garry Hurvitz that not only rebrands our organization, but enables us to bring this plan to life.
This plan highlights the important opportunity we have as a child and youth mental health provider partnered with The Hospital for Sick Children (SickKids) to develop new, innovative treatment options for our clients who are dealing with serious and complex mental health needs – and reduce the time families wait to access these options.
It challenges us to enrich the skill set of our staff to enable them to provide even more effective – and personally customized – treatments for our clients.
It enables our growing research enterprise and strengthens our commitment to clinical measurement and evaluation to guide our response to the present and future needs of our clients.
Finally, our plan defines our commitment to embrace and understand the diversity of the communities we serve and of our staff in everything we do, enabling safe, accessible, and responsive services.
As we launch this strategic plan, we continue to respond to the serious impact of the present pandemic on the well-being of our children, our families, and our community. With the needs of our clients and families at the centre of all that we do at The Garry Hurvitz Center for Community Mental Health at SickKids, our new Strategic Plan 2025 positions us to collaborate effectively with our SickKids colleagues and our cross-sectoral partners to enable the building of more effective services and a better system of care.
Chris Bartha
Executive Director

Neill Carson
Clinical Director and Site Lead
September 22, 2021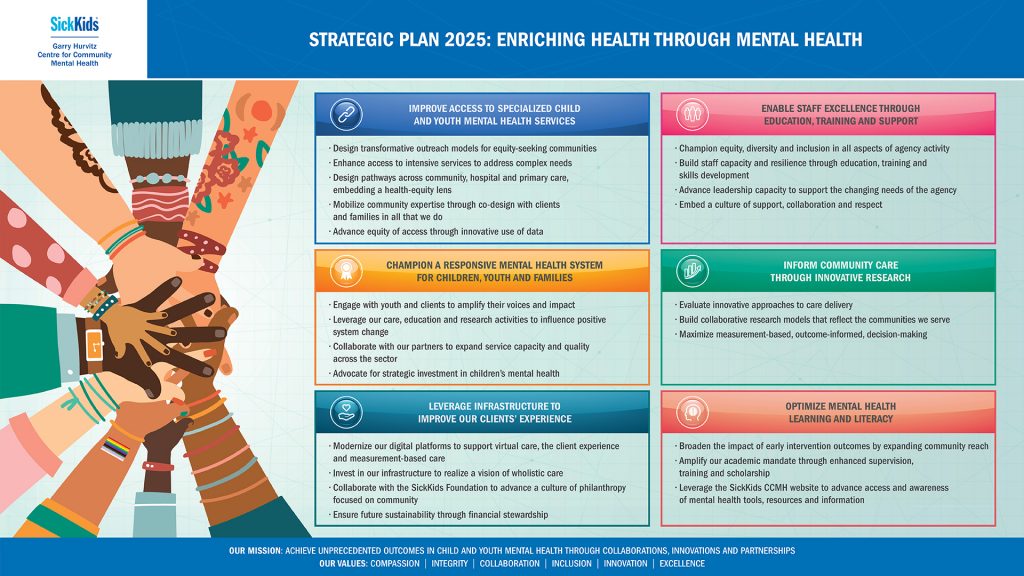 View the Strategic Plan 2025 as a PDF.
---
Plan stratégique et objectif
Vision : Enrichir la santé par la santé mentale
Nous avons le plaisir de lancer notre nouveau plan stratégique 2025 : Enrichir la santé par la santé mentale Ce plan comprend six orientations qui nous permettront de remplir notre mission, à savoir obtenir des résultats transformateurs dans le domaine de la santé mentale des enfants et des adolescents grâce à des collaborations, des innovations et des partenariats. Ce travail est aujourd'hui renforcé par le don transformateur de Garry Hurvitz, qui non seulement donne une nouvelle image à notre organisation, mais nous permet également de donner vie à ce plan.
Ce plan souligne l'opportunité importante que nous avons, en tant que prestataire de services de santé mentale pour les enfants et les adolescents, en partenariat avec The Hospital for Sick Children (SickKids), de développer des options de traitement nouvelles et innovantes pour nos clients qui ont des besoins graves et complexes en matière de santé mentale et de réduire le temps d'attente des familles pour avoir accès à ces options.
Elle nous incite à enrichir les compétences de notre personnel pour lui permettre d'offrir à nos clients des traitements encore plus efficaces et personnalisés.
Il permet à notre entreprise de recherche de se développer et renforce notre engagement en faveur de la mesure et de l'évaluation cliniques afin d'orienter notre réponse aux besoins actuels et futurs de notre clientèle.
Enfin, notre plan définit notre engagement à intégrer et à comprendre la diversité des communautés que nous servons et de notre personnel dans tout ce que nous faisons, afin de fournir des services sûrs, accessibles et réactifs.
Alors que nous lançons ce plan stratégique, nous continuons à répondre aux graves conséquences de la pandémie actuelle sur le bien-être de nos enfants, de nos familles et de notre communauté. Les besoins de nos clients et de leurs familles étant au centre de tout ce que nous faisons au Garry Hurvitz Centre for Community Mental Health at SickKids, notre Plan stratégique 2025 nous permet de collaborer efficacement avec nos collègues chez SickKids et nos partenaires intersectoriels afin de mettre en place des services plus efficaces et un meilleur système de soins.
Chris Bartha
Directeur exécutif
Neill Carson
Directeur clinique et responsable de site
22 septembre 2021