At GH-CCMH we are working to create spaces in which each individual feels valued and respected. We know that a space cannot be safe for everyone, given the systems of power and privilege that exist within our society which leads to the marginalization of specific individuals and communities. We want to acknowledge this while continuing to work to make spaces safer for our staff, clients and community members.
To support this goal, the Anti-Black Racism, Anti-Oppression and Health Equity Advisory Committee at GH-CCMH has developed the statement below, with client and staff feedback, to promote the kind of space we are trying to create.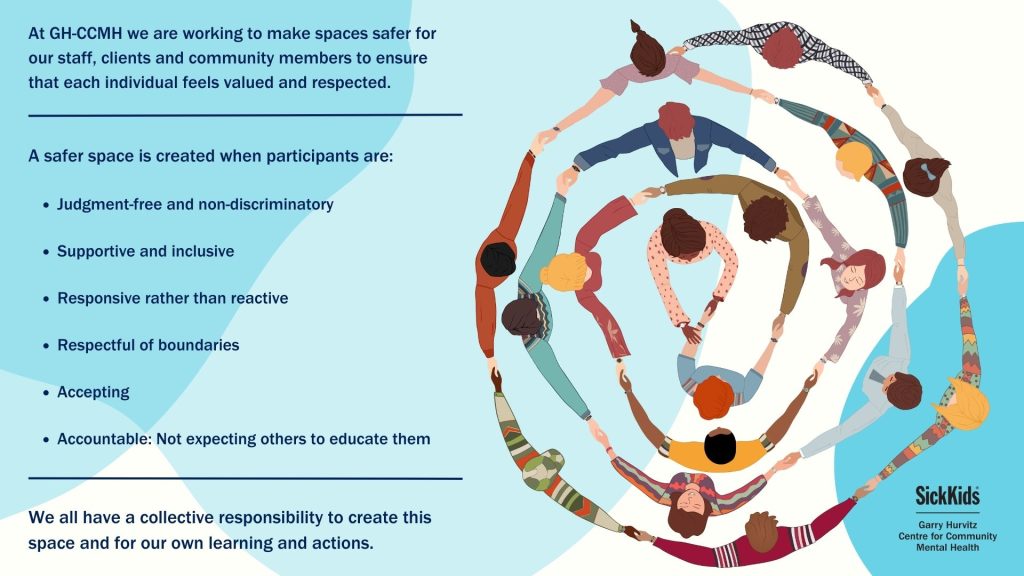 View our Safer Spaces statement as a PDF.
What do you think of our Safer Spaces statement?
---
Notre déclaration sur des espaces plus sûrs
À GH-CCMH, nous nous efforçons de créer des espaces dans lesquels chaque personne se sent valorisée et respectée. Nous savons qu'un espace ne peut pas être sûr pour tout le monde, étant donné les systèmes de pouvoir et de privilèges qui existent dans notre société et qui conduisent à la marginalisation d'individus et de communautés spécifiques. Nous voulons en prendre acte tout en continuant à travailler pour rendre les espaces plus sûrs pour notre personnel, nos clients et les membres de la communauté.
Pour soutenir cet objectif, le Comité consultatif sur la lutte contre le racisme et l'oppression des Noirs et l'équité en matière de santé du GH-CCMH a élaboré la déclaration ci-dessous, en s'appuyant sur les commentaires des clients et du personnel, afin de promouvoir le type d'espace que nous essayons de créer.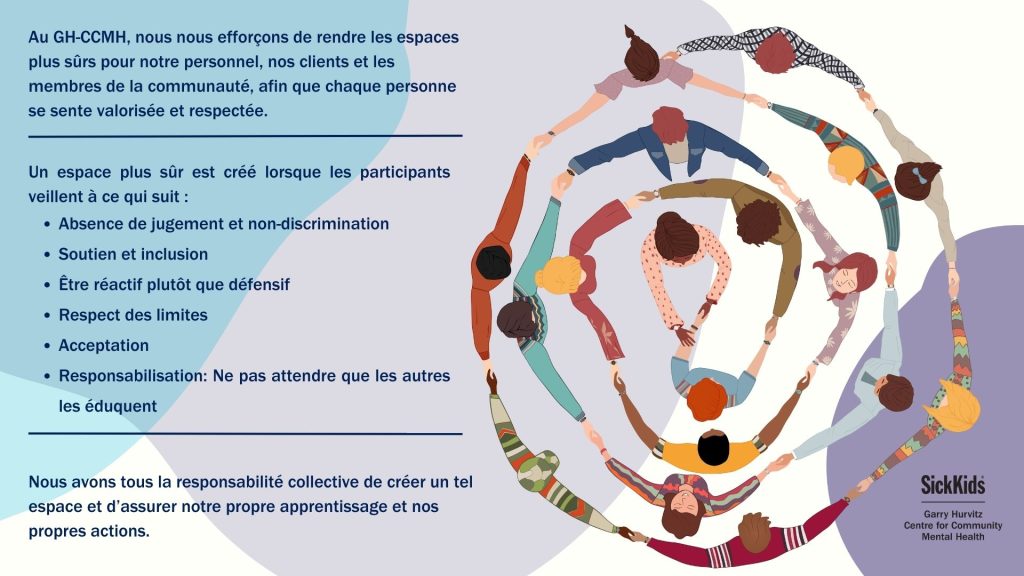 Consultez notre déclaration sur des espaces plus sûrs en format PDF.
Avez-vous des commentaires ou des réactions à propos de notre déclaration sur des espaces plus sûrs?