Research & Education
Research at The Garry Hurvitz Centre for Community Mental Health at SickKids (GH-CCMH) provides exciting opportunities for clients, caregivers, and staff to engage in the scientific process, directly impact current and future programming, and see themselves represented in how we understand child and youth mental health care. The Centre holds an important place in the health-care community, not only in the GTA, but across Canada. By engaging in data collection, we ensure that research reflects the diversity of identities of those engaged with the Centre. When you see yourself represented and reflected in research, you can be more confident that policies, initiatives, and overall understanding of mental health and wellness will benefit you and your community in the future!
Below, find some of our current research studies.

CARIBOU-2
CARIBOU-2 (Care for Adolescents who Receive Information 'Bout Outcomes) explores a flexible treatment approach for youth experiencing depression. The CARIBOU protocol recognizes that treatment is not "one size fits all" and combines evidence-based guidelines with individual assessment so that treatment can be tailored to the individual. CARIBOU-2 tests this pathway in six community mental health clinics in Ontario. CARIBOU was originally developed by the Centre for Addiction and Mental Health (CAMH).

This research is run by CAMH and both GH-CCMH locations are participating.
Benefit to GH-CCMH clients
This research study gives youth access to a cutting-edge treatment approach to depression that can combine two types of evidence-based psychotherapy, medication, group therapy, and caregiver supports. Youth are also paid for their time completing assessment measures.
Why this work matters
Although much research exists regarding effective treatments for youth depression, many fewer studies have examined how these treatments work in "real-world" settings, apart from the highly controlled trials. Community clinics offer a diversity in client's language, socio-economic status, culture, race, and other identities, as well as a diversity in mental health professionals. This study will demonstrate how well an intervention like CARIBOU can work with a range of different people. If it works well, it can benefit youth on a much wider scale.
The project also has helpful resources to share. Developed by other youth on the CARIBOU team, these resources are designed to help other young people understand depression, as well as provide strategies that can help improve mental health:
There are also resources for clinicians:
To learn more about the CARIBOU-2 initiative, contact Michelle Ferreira at michelle.ferreira@camh.ca
COVID Surge Pathway Project
One of the many unfortunate outcomes of the COVID-19 pandemic is an increase in mental health concerns and crises experienced by children and youth, along with a higher demand placed on health-care workers. The Hospital for Sick Children (SickKids) and GH-CCMH observed that there was 1) a surge of youth presenting at the emergency department at SickKids with mental health issues and 2) a need for established pathways of care between SickKids and GH-CCMH. A project was designed to take clients engaged with the Urgent Care Clinic at SickKids and allow them to be easily transferred to receive brief psychotherapy at GH-CCMH. This research project evaluates how effective this project is by evaluating changes in the client's symptoms and functioning after treatment. This information is provided by the caregivers and the staff at both locations.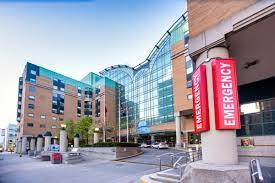 Benefit to GH-CCMH clients
This pathway provides a way for those in high distress to avoid lengthy waitlists and receive immediate individual and/or family therapy. Because data is provided by the referring SickKids clinical staff member, the GH-CCMH staff member already has treatment goals and general information before the first session. Caregivers can provide a unique perspective on the needs of the client at multiple points in their care journey.

Why this work matters

If the research shows that this pathway is improving functioning and decreasing symptoms in distressed youth, GH-CCMH can expand this pathway to include a higher number of interested clients. In addition, it will set the stage for more seamless pathways between SickKids and GH-CCMH – reducing the burden at the hospital and giving those in need faster access to care.

To learn more about the COVID Surge Pathway Project, contact Dr. Uliaszek at auliaszek@sickkidscmh.ca.
---
If you wish to collaborate with GH-CCMH on a research study or any other data collection initiative, please click below and provide us with more details of your project.