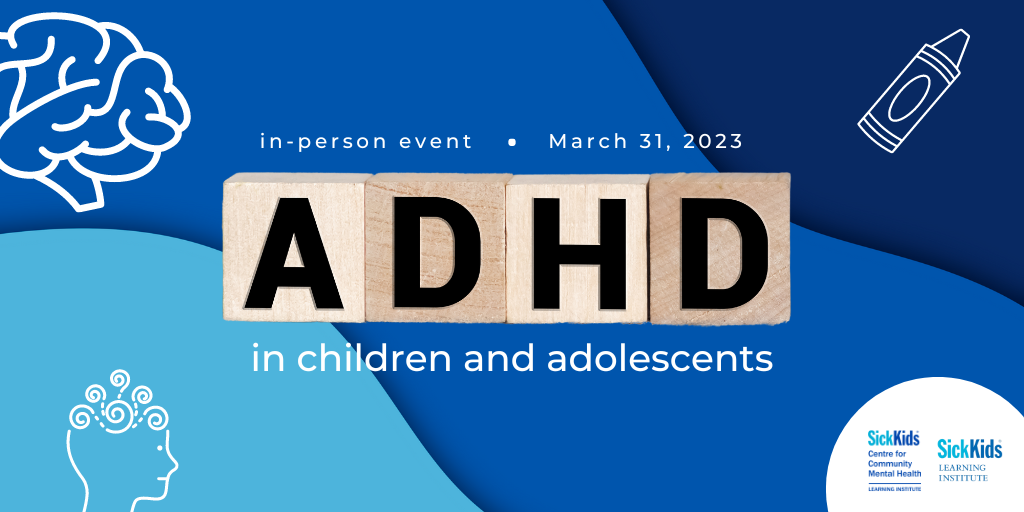 SickKids Centre for Community Mental Health Learning Institute is pleased to bring to you a special event, ADHD in children and adolescents featuring four experts in the diagnosis and treatment of children and adolescents with ADHD. Join us for this in-person full-day training, including an interactive panel discussion and an opportunity to network with other professionals in the field. Spots are limited – learn more and register today!
This event is suitable for professionals in the fields of mental health, medical services, direct service/social service, and education for children and youth.
ADHD in children and adolescents
Date: March 31, 2023
Time: 9 a.m. to 4 p.m. ET
Facilitators: Dr. Joan Flood, Dr. Doron Almagor, Dr. Brenda Miles, and Tara Doherty
Location:
Peter Gilgan Centre for Research and Learning (The Hospital for Sick Children)
Auditorium – 2nd and 3rd Floor
686 Bay Street, Toronto, ON M5G 0A4
Fee: General – $275 | Student – $247.50

*Please note: As part of the protocol by Infection Prevention and Control (IPAC) at SickKids, all staff and attendees are required to wear masks during the event.