At The Garry Hurvitz Centre for Community Mental Health at SickKids we are working to create spaces in which each individual feels valued and respected. We know that a space cannot be safe for everyone, given the systems of power and privilege that exist within our society which leads to the marginalization of specific individuals and communities. We want to acknowledge this while continuing to work to make spaces safer for our staff, clients and community members.
To support this goal, the Anti-Black Racism, Anti-Oppression and Health Equity Advisory Committee at GH-CCMH has developed the statement below, with client and staff feedback, to promote the kind of space we are trying to create. 
You will see this statement up in our lobbies as well.
If you have any comments/feedback about our safer spaces statement, reach us at feedback@sickkidscmh.ca.
---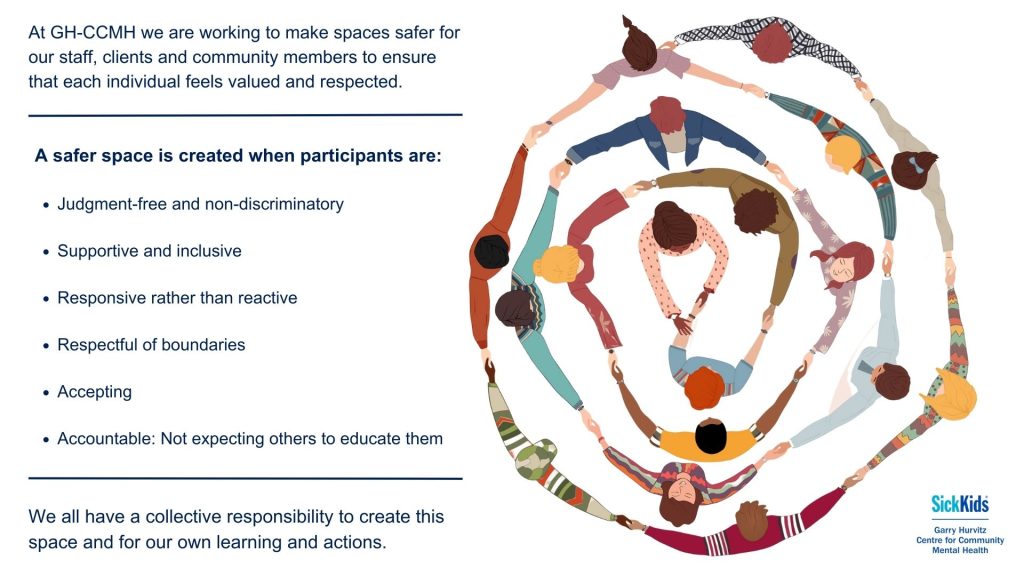 ---
New client? Phone us if you need services – we are here to help. Call our Mental Health Access Program at 416-924-1164 ext. 8708; we will return your call the same day or the next business day.
The Garry Hurvitz Centre for Community Mental Health at SickKids is part of the SickKids mental health continuum of services including psychiatry and the TeleLink Mental Health Program, which offers both urban and rural telepsychiatry virtual services
For information regarding all Toronto child mental health services, visit Help Ahead.